The liver processes toxins such as drugs and alcohol at constant rate. For alcohol specifically this is one drink per hour, so if more alcohol is taken in than can be processed; the liver will end up becoming damaged. This damage can interfere with the normal functioning of the liver.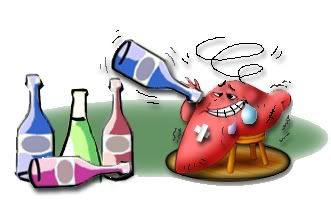 Alcohol and illicit drugs can lead to three types of liver disease, fatty liver, alcoholic hepatitis, and alcoholic cirrhosis. Fatty liver is when fat cells accumulate in the liver. Most alcoholics experience this disease, and there are often no symptoms. However, some people do experience an uncomfortable feeling in their upper abdomen from the enlargement of the liver. After the cessation of drinking the liver will return to normal. Alcoholic hepatitis is when the liver becomes inflamed from the heavy drinking. Symptoms are numerous for this disease. Some of the symtoms include nausea, vomiting, loss of appetite, pain, fever, and jaundice. If mild, the disease could continue for years with gradual damage occurring, but in its most severe form, it can suddenly cause life threatening complications. Alcoholic cirrhosis is the most severe form of liver disease. Cirrhosis occurs when the normal liver cells are replaced with scar tissue cells. This disease is life threatening and is irreversible.
For most of us, small amounts of alcohol will not harm our liver. The standard for moderate drinking is one drink per day for women and two per day for men. However, for people that have existing liver conditions, take medication, or don't process toxins as well due to age related liver deterioration, even the smallest amounts of alcohol can have major effects on the health of their liver. Alcohol should never be taken with acetaminophen, or around the same time. Severe liver complications can arise from the mixture of these two toxins! It is CRITICAL to your safety to inform your health-care provider of ANY alcohol intake when taking medications or participating in procedures!
Think about your liver the next time you decide to have a drink!
Reference:
American Liver Foundation website. Last updated in 2007.
http://www.liverfoundation.org/education/info/alcohol/